Stone Creek Ranch
Who Can Enjoy Texas Elk Hunts?
Hunting Elk is always sure to be exciting, and when you choose to hunt at Stone Creek Ranch, you can be certain it will be a one-of-a-kind experience. While many people feel daunted to hunt Elk for the first time, we're here to make it a great new adventure for you and anyone who comes along with you. Keep reading to find out more.
A Few Basics of Texas Elk Hunts
The history of elk hunting in Texas has a focal point in the Guadalupe Mountains, located in the Trans-Pecos region of far west Texas. Before the introduction of hunting limits and regulations, hunters harvested elk in this region almost to extinction. However, private landowners began reintroducing elk to the Trans-Pecos in the late 1920s, and the population started to rebound, especially as elk escaped or were released from private properties. Today, you can find elk throughout Texas, including many descendants of those Trans-Pecos elk.
Who Can Enjoy Texas Elk Hunting?
Many people have a preconceived notion that hunting is just for people in coonskin hats, which has many negative connotations. But you're probably smart enough to know better. Hunting is a sport that can be enjoyed by almost anyone, provided that you take the proper safety precautions. Consider how elk hunting (well, any hunting, really) is a great way to enjoy nature, grow to understand wildlife and even gain a few health benefits.
Solo Hunters
It's completely wrong to assume that only a particular type of man can hunt; in fact, the fastest-growing segment of hunters is women. And no matter who you are, hunting has many perks, so it's certainly something to explore if you want to learn about the great outdoors.
Hunting isn't a sit-and-wait sport; it requires a lot of physical activity. When on a hunt, you'll probably be moving, tracking and stalking throughout the day. Plus, with the average rifle weighing approximately 12 pounds, you'll have plenty of opportunities to build some upper body strength.

When hunting, you'll use your eyes, ears, body and brain to observe your surroundings, analyze situations and eventually take the shot. This can do wonders for your hand-eye coordination, reaction times and overall mental health. There's nothing like a day in the great outdoors to get those endorphins flowing, after all.

Fresh meat can offer many benefits compared to the packaged meat you buy at the supermarket. While you will want to use the appropriate sanitary measures when preserving and preparing your kill, there is little doubt that fresh, wild meat often is some of the healthiest you can get. It's free of hormones, steroids and antibiotics and has lived in a completely humane, free-range environment. What's more, most people say wild game always tastes better.

Hunting is a learning experience. You can use your hunt to learn how to become a better shot and gain valuable knowledge about safety, the local environment, indigenous wildlife and animal habits. All of this can help you become a better hunter, and it's the knowledge that lasts a lifetime.
Families
Many people will tell you that hunting in groups is more fun and safer (provided everyone works together). That's why families—and we mean the kids, too—often find hunting a great way of getting in some quality time.
Of course, when hunting with children, you'll have a few extra things to consider. The law in Texas is unambiguous when it comes to hunting with children. Anyone hunter younger than 9 years old must be accompanied by a person who is at least 17 and licensed to hunt in Texas. Past the age of 9, a young person can hunt alone after passing an approved hunter education course. You must always impress the importance of safety upon young hunters (and keep this in mind for yourself, too). With that in mind, there's no reason why the whole family can't grow their love of the outdoors on a hunt, and Stone Creek Ranch is the perfect place to do so.
First-Time Hunters
The first time you do something, you probably aren't going to be an expert. Expertise comes with practice and experience, after all. If you've never hunted elk (or any animal) before, it's not something to jump into alone. Not only is it unlikely to yield results, but it's also a significant safety risk. When you head out on your first hunt, it is best to have some guidance.
Stone Creek Ranch makes it simple and fun to start hunting elk as a first-timer. When you book your hunt with us, we go the extra mile to ensure you have a fun, safe and rewarding experience. Our trained guides regularly scout the property to take stock of current animal populations and behaviors, and we'll ensure that you always have someone by your side when out on the hunt. Plus, included in your hunting package is the trophy fee for your elk, lodging, chef-prepared meals, and complete trophy care. What's not to like?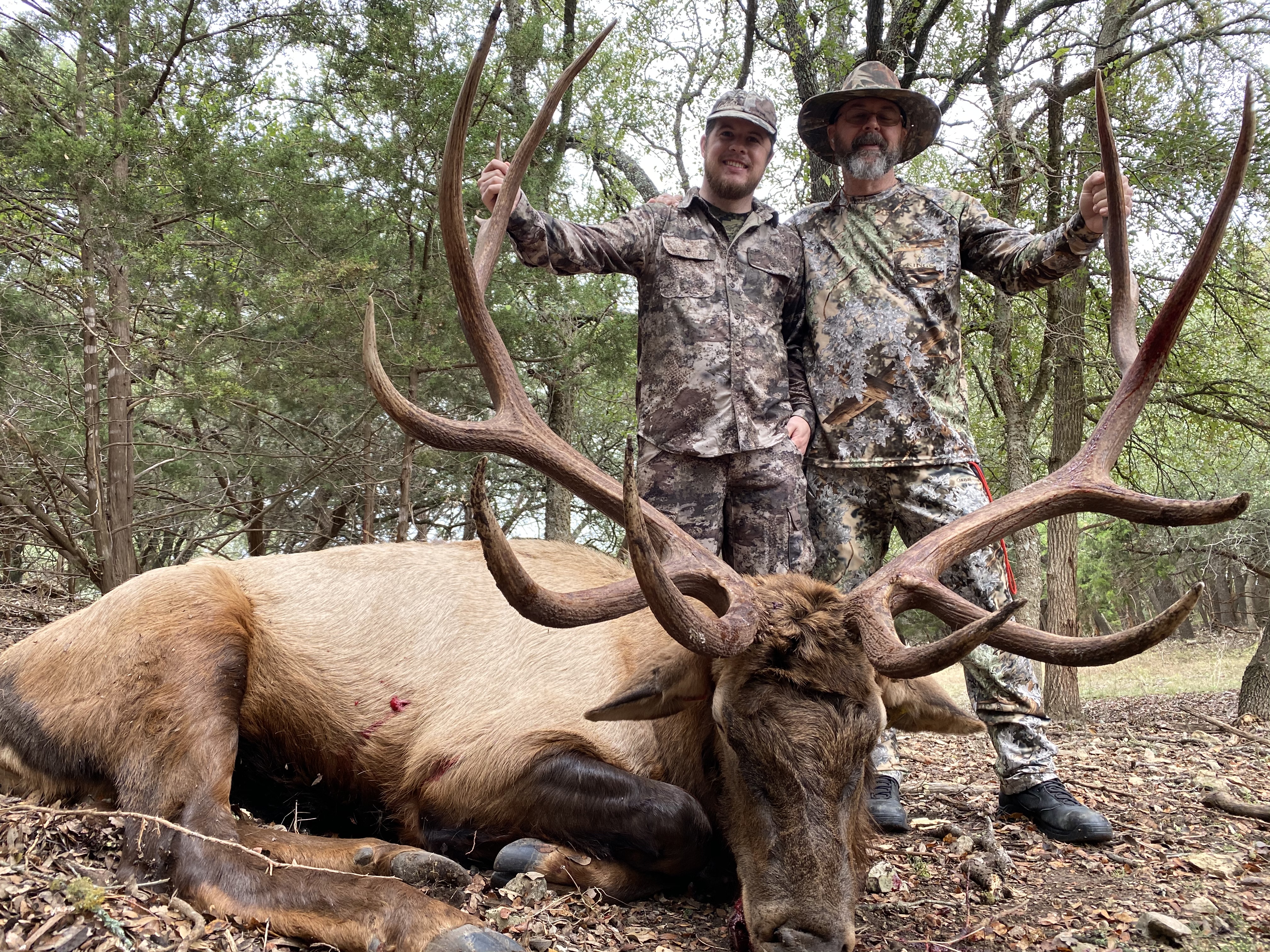 Book Your Elk Hunting Experience at Stone Creek Ranch
Because there is no elk hunting season in Texas, you can hunt these striking animals year-round. That said, the best time to hunt elk in our area is during the rut (mating season), when you will most likely see elk on the move. The rut typically occurs annually in September and October.
With this year's rut so near, now is a great time to book your annual elk hunt at Stone Creek Ranch. Whether you are a first-time hunter, experienced, or traveling with friends or family, we know our world-class hunting ranch will exceed your expectations. If you're ready to kick off your Texas elk hunt, contact us or book a hunt today!